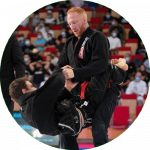 Trainer
Stefan Zoll
Introduction
BRAZILIAN JIU JITSU BLACK BELT UNDER THE LEGENDARY AMERICAN TOP TEAM CO-FOUNDER, AND FIRST IBJJF SUPER HEAVYWEIGHT CHAMPION, RICARDO LIBORIO.
Stefan started training in 2000 and was amongst the first early adopters of Brazilian Jiu Jitsu in the UK. After moving to the Middle East in 2007 to teach English, he became involved in one of the largest privately funded BJJ and fitness projects in the world at the time, known as 'Arena MMA and Fitness'. He would go on to become a pioneer of BJJ in Saudi Arabia with many of his former students being the first Saudis ever to medal in the World Professional Jiu Jitsu Championships in Abu Dhabi.
Stefan has extensive international competition experience including an IBJJF No-Gi gold medal and a silver medal in the World Pro Jiu Jitsu Championship in Abu Dhabi.
With an academic background in languages and linguistics, Stefan has been teaching BJJ full time for over a decade and has developed a unique, and pioneering teaching methodology which he has used to produce elite level competitors, whilst at the same time providing a highly structured kids programme and making BJJ accessible to everyone from all walks of life.
JOIN MILL HILL BJJ
TRAIN WITH THE BEST