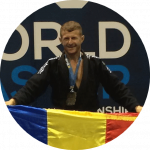 Trainer
CRISTINEL TILVAR
Introduction
Cristinel Tilvar is an experienced BJJ fighter and loves to share his knowledge when training students. Cris is also the owner of Mill Hill BJJ academy.
Cristinel has been training Brazilian Jiu-jitsu for over 17 years. He started under the instruction of Roger Gracie Academy and has continued his passion for BJJ by opening the Mill Hill BJJ Academy in London.
Having recently competed at the World Masters Championships in Las Vegas in 2015, where he and other members of Mill Hill BJJ took home Gold medals.
Cristinel is well known in the BJJ community and has won championships and continues to train new and experienced students at the Mill Hill BJJ Academy.
Private training classes are a great way to learn Brazilian Jiu-Jitsu. Whether you want to get started with the basics or you want to work on techniques in more detail with Cristinel, we are here to help you. Each of our online members comes with a free training session.
JOIN MILL HILL BJJ
TRAIN WITH THE BEST