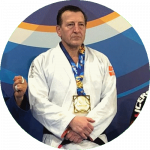 Trainer
Rob Connor
Introduction
BLACK BELT IN JIU-JITSU UNDER MILL HILL BJJ
Rob is a 3rd degree (4th Dan) black belt in Brazilian Jiu Jitsu, a black belt in Judo and experienced submission wrestling coach.  Rob received his black belt from Roger Gracie, 10x world weight and openweight champion.
He received his 1st Degree from Rogers father, Mauricio Gomes and his 2nd degree from Nicholas Brookes. Rob is an International Brazilian Jiu Jitsu Federation European Masters Champion (2022).  Rob has also trained in MMA and Thai Boxing.
Rob focus is National level children's competitive BJJ and is committed to building one of the strongest junior competition teams in the UK.  He combines this focus with a passion for the "old School"  BJJ developed by the Gracie family for self defence and unarmed/real combat and for developing and building self confidence, fitness & well being.
JOIN MILL HILL BJJ
TRAIN WITH THE BEST