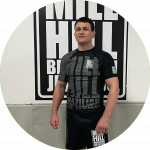 Trainer
SILVIU NASTASA
Introduction
BLACK BELT FIRST DEGREE UNDER MILL HILL BJJ
My first experience in Martial Arts started at age 6 when my father ( also a wrestler) introduced me to wrestling. For many years onwards all I've done was wrestling.
My arrival in the UK put me on a different path where I discovered a different world of grappling. First it was BJJ and Judo followed soon after. At the beginning it was challenging, I had to put aside years of wrestling knowledge and start with a beginner's mind, learning BJJ and Judo techniques.
Each discipline came with its own set of skills, rules and principles. Once I understood it and got comfortable with it, I started cross training and knowledge from all three had mastered my game.
JOIN MILL HILL BJJ
TRAIN WITH THE BEST