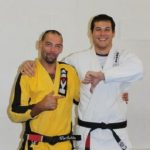 Trainer
Nicholas Brooks
Introduction
BLACK BELT UNDER MILL HILL BJJ
Nicholas Brooks was born in London – UK.
Nick is a 2nd-degree black belt under Mill Hill and helped launch Mill Hill BJJ as a network of academies throughout seven different countries in Europe.
We have 25-26 academies in Croatia, Slovakia, Romania, Germany, Netherlands, and the UK. It's a network of friendship because a lot of the instructors in those countries were my students. So, they went back home and open their own academies. Some of the instructors relate to the way we think and want to become affiliated with us.
We have many active competitors at the Mill Hill Academy. Myself, I compete a lot and a lot of my black belts compete a lot. We have also a lot of people training for fun and we don't really separate them. But, we do have competition classes. A lot of people are training and enjoying these classes to help athletes. So, it's a mixed bunch and I think it's a good mix. As an academy, we have probably 30 percent of our students compete which is quite high for an academy.
The best thing about Jiu-Jitsu is just go and have fun. Enjoy it!
JOIN MILL HILL BJJ
TRAIN WITH THE BEST