The Class
Discover and learn the fine martial art of Brazilian Jiu Jitsu that revolves around grappling and ground fighting. Most of the techniques focus on taking your opponent to the ground where you can control and look to submit them – they tap out.
Our advanced BJJ classes are for 4-16 year olds, taught by a professional GI and are friendly and educational. Our classes give children the chance to make new friends and learn new skills. They also see the importance of working with others and respecting fellow students' needs and abilities.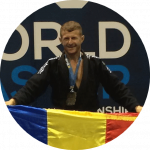 Trainer
CRISTINEL TILVAR
Cristinel Tilvar is an experienced BJJ fighter and loves to share his knowledge when training students. Cris is also the owner of Mill Hill BJJ academy.
GUIDED CLASSES
UNLEASH YOUR POTENTIAL
Note: We will be adding some more classes in due course