The Class
Discover and learn the fine martial art of Brazilian Jiu Jitsu that revolves around grappling and ground fighting. Most of the techniques focus on taking your opponent to the ground where you can control and look to submit them – they tap out.
BJJ promotes the idea that a smaller, weaker person can use leverage, grip, skill, position plus tactical skills and problem solving to successfully defend against a bigger, stronger assailant by successfully applying a range of techniques like chokeholds and joint locks. Our beginner BJJ adult classes are taught by a professional trainer and are friendly and educational.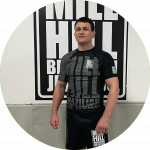 Trainer
SILVIU NASTASA
Silviu Nastasa has a wrestling background and is a BJJ black belt & Judo black belt. Silviu is an Active competitor and is also a Kettlebells instructor as well as a Strength & Conditioning trainer.
Guided Classes
UNLEASH YOUR POTENTIAL
Note: We will be adding some more classes in due course