The Class
Our advanced adult classes are open to all advanced fighters. Each lesson is unique and involves allow you to continue to learn and train the martial art of BJJ. As with all our sessions, start with a vigorous conditioning warm up and instructors then move on to demonstrate techniques, set ups and positions.
Sparring/rolling is included in these classes (but not for beginners) as it enables students to put what they've learnt to the test. In addition, many of our members participate in BJJ competitions throughout the course of the year and sparring is a vital part of their preparation.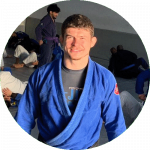 Trainer
Dinu Bucalet
Dinu Bucalet is an experienced European Champion in BJJ multiple times in the Adults division in the IBJJF and Naga Championships.
Guided Classes
UNLEASH YOUR POTENTIAL
Note: We will be adding some more classes in due course